ASOS is a global online fashion and beauty retailer launched in 2000, they offer over 50,000 branded and own label products.
Below is a link to find out more about ASOS's connection to Ethical Fashion;
http://www.asos.com/infopages/asos-corporate-social-responsbility.aspx
Within this link they talk about how they choose to ethically source, how they wish fashion to be cruelty free, so they don't permit the use of fur or endangered skins in their brand products, the various charities they are involved in, the fact that they are a carbon neutral company and their ethical code of conduct.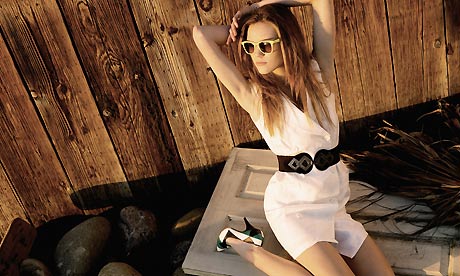 ASOS
ASOS Africa is ASOS's own ethical brand. It's produced in collaboration with SOKO, enabling underpriveleged communities to establish sustainable buisness through local craftsmanship.
Part of ASOS Africa A/W 11 collection (most recent)


Piece from a previous ASOS Africa collection
ASOS Africa stays up to date, incorporating the latest trends with bold prints and African designs that can make statement pieces. I love the fact that they are bringing ethical fashion to the high street in a way that can change the way people view sustainable fashion.